As a visionary and pioneer, Aalto defines Scandinavian Design Philosophy in the 1930s. He strongly believes that design should be humanising and available for everyone. Severe geometric forms were rejected, because for him they were inappropriate to the human condition. Aalto prefers organic shapes and takes inspiration from nature.
The ABC Rack stands for Aurora Borealis Clothes rack and is a garderobe for public cloakrooms. It takes inspiration from the Finnish Design Classic
Coat rack 109C
designed by Alvar Aalto.
Alvar Aalto not only designs furniture but is also an excellent architect. He and his wife Aino Aalto design their home and studio building in Helsinki, today known as the Aalto house. The house is coloured white and the building material is concrete and red brick. The idea is when the facade wears out over time the red bricks get exposed little by little. I think this effect is very beautiful and wish to incorporate the aspect of time in my design as well. I wanted to use tinted plexiglass to create coloured shadows. When light passes through tinted semi transparent acrylic the resulting shadow is not black but has the same tone as the plexiglass. Additionally, curved acrylic sheets refracts light and creates water reflection like shadows. Depending on the time of day and season the user can watch a natural light show unfold. By hanging up clothes, putting down bags or changing shoes, the user also becomes part of the light show and can influence the effect.
Nature

As mentioned before, Aalto takes many inspirations from nature. As an exchange student in Lapland, one of my favourite experience are the Northern Lights. During a trip to Inari, I was lucky enough to catch a cloudless night and watch the spectacle covering the entire sky. The shape of the ABC Rack is largely influenced by the flowing appearance of the Aurora Borealis.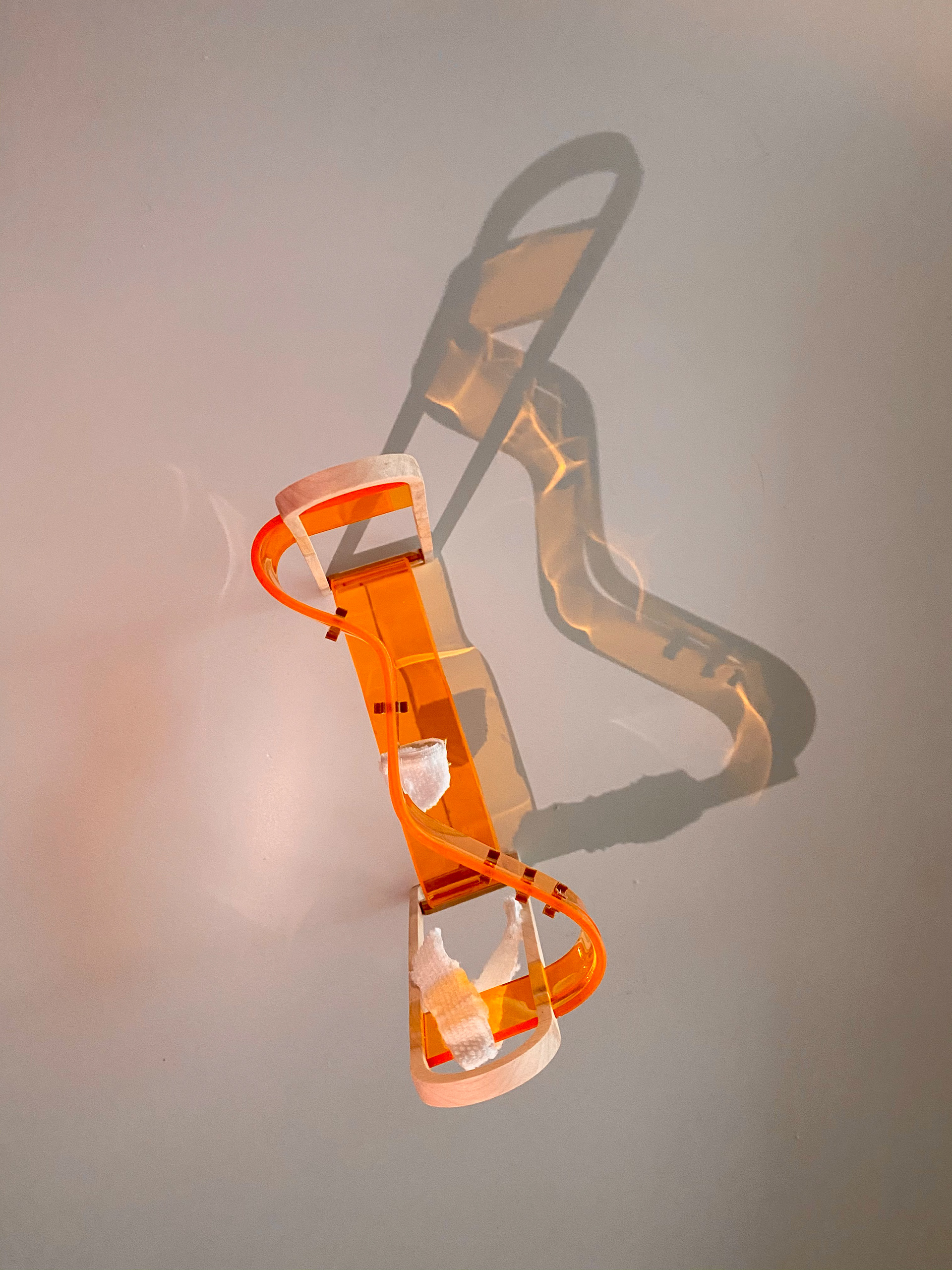 Design

The ABC Rack is designed for public spaces. The semi transparent plexiglass opens up the space and people can see through rows of clothes rather than feel enclosed by it. The yellow shadow mimics the warmth of the sun and creates an inviting, warm atmosphere. The plexiglass is bend along a diagonal line making it possible to access the clothes rack from both sides to maximise space for hanging clothes.
The structure of the ABC Rack is simple and can easily be disassembled for transport. It consists only of four parts. Two wooden frames and two bended acrylic sheets. By interlocking the pieces the structure becomes rigid. For the wooden frames I chose birch wood, a local material from Finland and widely used in Aalto's works. The plexiglass elements are employed for the properties mentioned above.